How to make olive leaf extract capsules
A quick guide on how to make olive leaf extract capsules for the enthusiast, or when products are not available off the shelf such as during a 'flu pandemic.
You will need leaves, a scale accurate to about 1g (a postage scale works well), some small plastic or glass containers with lids that seal and empty capsules.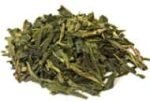 Step 1
Obtain some good leaves. Cultivars commonly used for their leaves are Mission and Manzanillo. Olea Africana from South Africa is said to be a good diuretic and heart tonic.
Make sure the leaves are from a reputable supplier, ideally certified organic. If from your own or a friend's garden, check that they have not been sprayed with pesticide or fungicide or have not received overspray from the neighbour's trees.
Step 2
If you have picked the leaves, rinse them in purified water and dry them below 150 deg F ( 65 deg. C) in an oven. You can air dry them on screens - ideally not in direct sunlight - but this will take longer and may result in a greater loss of active ingredients.
Step 3
When thoroughly dry crush the leaves to powder using a mortar and pestle or coffee grinder.
If you are able to get some good standardised olive leaf extract powder, you can add it to your crushed leaves in the ratio of about 1:1 by weight to greatly boost the strength of your capsules. If your capsules are for health maintenance purposes only, this is not necessary. Make sure you mix it in well so that each capsule has the same strength.
Tip - Don't leave concentrated powdered extract for long in the open air. It will quickly absorb moisture and turn into olive leaf extract "toffee". If a little moisture gets into the container before it is sealed it all becomes olive leaf extract "rock".
Step 4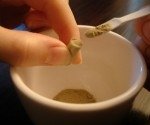 Fill your capsules by hand if you only need a few, or with one of the many simple capsule machines available on the internet if you want a few hundred.
To fill by hand, hold the smaller diameter half of the capsule as shown in the picture and fill with a small spatula.
You will need a small rod with a flat end to tamp the powder down then add more until well packed.
Leave a hump of powder on top when full and then fit the larger diameter part of the capsule over it and push them together until they "click".
You can decide whether to use cheaper animal-based gelatine capsules or cellulose-based vegetarian/vegan capsules, also readily available on the internet.
(Normally from the same suppliers as the filling machines.)
A good capsule size for swallowing is size 0 and it can hold a reasonable amount of powder.
If you wish to go a little larger to make the capsules stronger size 00 is also good but not quite as easy to swallow.
Step 5
Store your finished olive leaf capsules in airtight plastic or glass containers, ideally with a sachet of drying agent if you plan to store them for a few months. They should be stored in a cool dry cupboard out of the sunlight.
You now know the basics of how to make olive leaf extract capsules.
Experiment and have fun!
To buy empty capsules and other capsule-making equipment click
manual capsule machine.