Herbal Wellness International
Welcome to the wonderful world of the olive leaf, and the home of the world's most concentrated tincture.
This may sound over zealous, but read below why we believe it's true;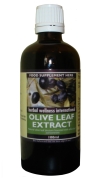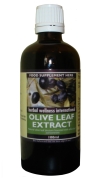 A strong 1:2 ethanolic tincture is made from organic olive leaves.
To this is added as much concentrated olive leaf extract powder, standardized to contain 20% oleuropein, as will dissolve.
The liquid is mixed and allowed to stand until the full nutrient-carrying capacity of the tincture is reached.
Insoluble particles are then filtered out of the solution, now at an unrivalled 1:0.8 olive leaf to liquid ratio (the lower the second figure, the stronger the tincture).
The tincture, when diluted 1:1 in water or juice is now the ideal concentration for maximum absorption in the stomach.
The liquid, because of the properties of ethanol passes into your blood stream, from the moment it touches your mouth all the way down your alimentary canal.
Within minutes it has started to apply the balm of olive leaf to your system.
We leave the final evaluation up to you of course, the proof of the pudding is in the eating. If you order using one of the Paypal buttons below, you will be taken from this secure page to Paypal's secure server where the transaction will be concluded.
We do not keep any of your information other than a contact email address.
As a bonus to our customers, these prices are the best you will find for this product, and include include 1st class shipping by Royal Mail.
Tip; Bookmark this page so you can find the best deal again in the future.
If on mobile device, to view or add testimonials or review this product click on "Full Site" tab.
Have you found another use for Olive Leaf?
People who use herbs often discover uses you wouldn't normally imagine.
I've heard some unusual applications of olive leaf - like the lady who gave it to her dog and it's hair went curly.
She was overjoyed because it was a poodle and ill health had made its hair go straight.
If you have found a use we have missed why not let the other readers know on this web site?
UPDATE